Marianne has a beautiful variety of offerings for adults!
1-Support for moms of children of special needs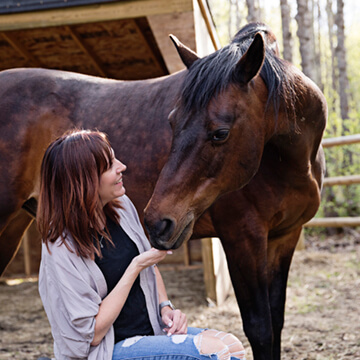 EAS© is a horse-assisted intervention developed by Marianne Disipio, which combines guidance to help moms of children with special needs thrive within their caregiver role, with the introduction of soulful self-care practices for coping with ongoing challenges.
It is a method that uses profound personal experiences, obtained through professionally-guided interactions with horses (on the ground), to gain helpful insights into thoughts, beliefs, values, behaviours, choices, and communication. The purpose is to apply new self-discoveries and learning into real life challenging situations to promote wellness.
Please note that this service is also offered to dads and other caregivers.
These sessions are private, and one on one. Rates are listed below.
Results you can expect from EAS©
Releasing sadness and moving towards acceptance through moving experiences with the horses.
Building long term emotional stamina for caregiving by learning soulful practices and routines to include in your own personal road map towards wellness.
Learning to trust your motherly intuition to help guide you with difficult parenting decisions.
Fostering your child's self-esteem by assuring your approach addresses all 5 essential CQs for a well-adjusted child.
Daring to dream about your own life as a woman by implementing a realistic, yet motivating, long-term action plan.
Identifying your DOs and DON'Ts for communicating effectively while co-parenting (or advocating for your child) by obtaining insights mirrored by the horses.
Accessing emotional support as needed through Marianne's therapy and new friendships with other moms like you!
Marianne knows how important is is to have friends who get it! Join this amazing FREE friendship group of moms of children of special needs! We meet once a month to do something that gets us out of the ordinary and into the extraordinary! Time to feel alive ladies!
Please contact Marianne directly to get on the list info@mariannedisipio.com
2-EAS© for all other adults and populations wanting support
If you are an adult of any sex and gender experiencing any type of challenging life issue(s), you are welcome to book a session! Scientific research is supporting the use of equine-assisted interventions to increase self-awareness, reduce stress, and promote general wellness. Marianne's unique soulful approach will certainly offer a refreshing and comforting setting with helpful insights to help you move through your problems.
Marianne is committed to offering a safe space for everyone by welcoming all abilities, considering cultural diversity, and being trauma conscious. Everyone is welcome!
These sessions are private, and one on one. Rates are listed below.
*Results are very similar for all other clients, and also include personal goals!
Is EAS© for you?
It is absolutely something you will enjoy if you…
Love animals and horses
Respect that animals have certain rights and choices
Share beliefs (or are open-minded) around a universal sense of spirituality
Believe that animals can communicate with us in many ways
Can benefit from emotional support
Feel 100% committed to getting your horsepower back and keeping it!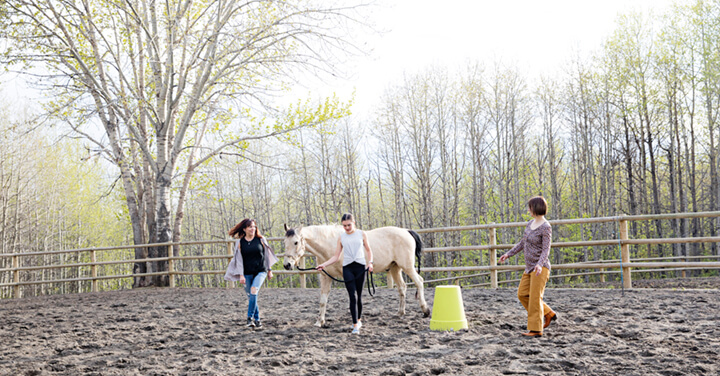 It is not for you if you identify with one or many of the following:
Have strong fears around animals
Believe the purpose of animals is mainly for food
Believe horses are only for riding sports
Adhere strictly to a single religious denomination
Consider yourself more of a scientific or fact-based person
Want or require traditional psychotherapy or medical intervention
Rates for EAS© sessions
Marianne's sole purpose in life is to people get to a place of confident self-sufficiency so she will never have to see your beautiful face again (unless it's for a cup of tea and a social visit with her amazing horses)! It's all about helping you get your HORSEPOWER back!
Save your money for weekends in the mountains, and those cute yoga pants! All you need is a little support!
Save your money for weekends in the mountains, and those cute yoga pants! All you need is a little support!
1 Session
$129 (60-90 min)
3 Sessions
$299 (SAVE $88!)
Can't afford it but really need it?
If there's someone who understands how expensive life can get, especially with a child with special needs, it's Marianne! And Marianne understands how moms will ALWAYS choose to spend the money on their kids before themselves. Please inquire about the fully funded scholarships for well-deserving moms (even though we are all well-deserving). Marianne will never refuse a mom who really wants to come!
3-Equinisity Sessions
Exhale. Release. Recharge.
EQUINISITY is the practice of connecting with the self through mindful and soulful experiences with horses on the ground. It is a self-directed centering method where one attempts to find calm and clarity through passive interactions with horses. Horses help by inviting us to self-regulate with them so we can be still enough to attempt to enter a meditative state. It is an exceptionally powerful way to learn how to manage stress, emotions, and unhelpful thoughts.
For those of you who know something about energy work, Equinisity sessions are believed to offer a certain healing component to the practice, as it is thought that horses are often called upon to help clear our energy centres (chakras) through their powerful ability to detect imbalances and emit grounding vibrations from the Earth.
Sessions are designed to help you look inward and review what you might be currently living, followed by suggestions from your facilitator on how to best go about utilizing your session. Sessions are often done in silence and stillness with a horse in close intimate contact, however, there are also opportunities for semi-structured activities depending on your goals. This will all be discussed with you prior to your session over the intake phone call.
Come experience it for yourself! If nothing else, it's a nice way to get a break and soak up some sunshine in the company of the most beautiful animal in the world!
Equinisity sessions are offered in a group setting. Spots are limited and must be reserved in advanced. Cost is separate from the EAS sessions.
Cost and dates to be announced for the next season soon.
4-Recreational and Community Groups
Animal therapies, including horse-assisted programs, are gaining recognition in the scientific literature as having positive health benefits!
Marianne offers truly magical and inspiring experiences at affordable discounts to social work and community health organizations for groups with the horses!
The purpose of the groups can simply be recreational, or more focused. Examples of objectives for such groups can include:
-Offering safe, interactive, and comforting experiences with the horses to provide individuals experiencing mental health challenges a sense of service and accomplishment.
-Creating a nurturing experience with the horses for families working on parenting, unity, and attachment.
-Inviting children and teens at risk to explore new and exciting self-regulating techniques with the help of the horses' ability to provide non-threatening feedback and soothing physical comfort.
And so many more!
If you have other ideas, Marianne and the horses would love to collaborate with your agency to make it happen! Simply call 403-828-0242 and share your brilliant ideas!
Cost will vary according to group and time.
Not sure this is for you yet?
No problem! Marianne offers FREE meet-and-greet visits! Come on over and see in person if you would like to try it out! You can also choose to pay as you go for private sessions. If you decide to stop and not follow through with the 3 sessions, you are not obligated to pay for the remaining sessions.
No time?
I won't hear of it! You deserve to make the time for yourself. (There's a reason they always say to put your oxygen mask on first before you put your child's mask on when they are reviewing safety in a plane). Why not book something while your child is out with the FSCD respite worker! The ranch is 2 min. from Royal Oak Walmart! And there's a Coop 1 min away. Grab your groceries on the way out!