Marianne's Approach
Wellness Services for Unique Families

Not all families are typical. Sometimes, the apple can fall very far from the tree! This may ring true for families with a child or parent that is somehow "different" from the societal norm.
Unique families experiencing unusual circumstance may include having a child or family member with special needs, re-adjusting following a separation or divorce, forging meaning when coping with chronic emotional difficulties,  finding a balance when living with long-term health issues, learning to address difficulties constructively when living with a challenging family member, coping during life transitions, standing in one's own power following struggles with sexual identity, building strength after a loved one's suicide or incarceration, and much more…
When an individual or child does not conform to expectations, it is often the case that help is needed to adapt psychosocial behaviour to reality. In fact, scientific studies show families living with challenges reveal that their lives are a series of acute crises interspersed with chronic sorrow. Although everyone's experience and ability to cope with living with these types of unique circumstances may vary, we believe that each family member may benefit from support to build resilience of spirit in order to face whatever may arise in the future.
Families are a complex dynamic system, and that for healthy changes to be implemented successfully within the family unit, we encourage everyone to address, process, and resolve their reality in a way that is meaningful for them. Support is offered through wellness services that have a strong soulful basis rooted in nature (ecotherapy).
All services offered:
Help individuals connect with their sense of vitality that comes from having a purpose and a feeling of belonging to a greater community.
Encourage people to find what fuels their soul by exploring different mediums for self-expression and connecting with nature.
Use personal strengths and positive core beliefs to reframe challenging experience by building resiliency factors.
Goals:
Help the actual individual with unique circumstances or special needs to work towards acceptance of their situation and abilities, by building a positive self-identity and creating a new healthy self-narrative of triumph!
Support parents through challenges by helping them forge meaning from their experiences, reclaim a part of their own lives, and adopt individualized strategies to deal with the unavoidable stressors of their life.
Provide an opportunity for siblings to explore and affirm their separate individuality, as well as offering them a platform for unloading difficult emotions.
Soulful Wellness Interventions, From the Outside-In
Connect.
Create.
Move.
Renew.
Studies in the field of health and wellness are revealing the power and advantage of incorporating personal soulful, spiritual beliefs in provision of care. In fact, people tend to adopt, integrate, and maintain healthy habits more successfully when they are meaningful to them.
This is why soulful wellness for unique families, from the outside-in are fundamental intervention services Marianne offers her clients. They are particularly refreshing for families who might be emotionally depleted from years of being required to address more serious issues within a medical model of health care, but have now reached a more stable place where they can focus on building their best life possible.

Nature-Inspired Wellness
These days, most of us are "nature deficient". This implies that we do not prioritize spending time in nature, and ignore the evidence suggesting that it may help alleviate symptoms of social isolation, depression and prevent worsening of mental health issues.
All approaches used by Marianne in her wellness services are based in concepts of ecotherapy. It is by seeking to connect with the outdoors, on a soulful level, that allows us to look inwards to learn how to live in the present moment. It is also how we learn to transform challenges into opportunities for growth, and reframe a new identity and purpose.

These Outside-In Wellness Interventions Are Available:
Creative and Self-Expressive Arts
Engaging in a recreational and creative activity that allows one to go through a process of expressing hidden and conscious emotions, can be just as effective as talk therapy, and occasionally even more powerful for certain individuals. It is the actual creative process and not the project end result that provides a soulful opportunity for exploring fears, desires, and meaning in one's life. By combining elements of nature with art, it is possible to reach greater levels of soulful satisfaction for personal growth. Examples include drawing, painting, writing/journaling, dance, etc.
Equine-Assisted Self-help Therapy
Horses mirror our emotional states by responding to subtle and unconscious body language. In order to maintain positive communication and a comfortable interaction with a horse, it requires continuous self check-ins, balancing of our emotions, and readjustments of our behaviour. This provides us with important information about how we are truly feeling and how we are showing up to others.
Equine-assisted self-help therapy, a unique technique developed by Marianne, is the practice of using personal experiences obtained through professionally-guided interactions with horses, to gain helpful insights into one's own psychosocial behaviour, with the purpose of applying new self- discoveries and learning into real life situations. (All activities are done on the ground with horses. There is no riding involved).
Equine-based interventions are gaining recognition as being effective methods for helping various populations in the field of mental health. By their very majestic and powerful nature, being in the presence of horses can elicit feelings of wonder and inspiration. Horses are believed in many cultures to hold infinite wisdom. It is for these reasons that equine-assisted self-help is an exciting soulful-based medium for achieving wellness goals.
Mindful Physical Activity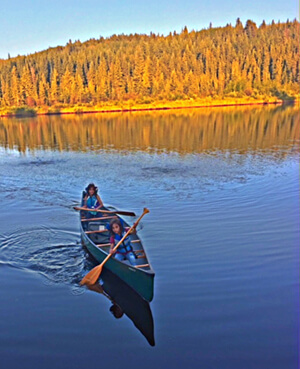 There are countless studies connecting improved physical and emotional wellness with physical activity. Mindful activities performed outdoors however, can offer additional wellness benefits by adding an essential soulful component to keep you interested enough to include your practice in a healthy lifestyle.